Clear Weather
This app was originally created by Scott Bradford and released under the name "No-Nonsense Weather." After he removed it from the app catalog, I updated it to run full-screen on the Touchpad and Pre3 and resubmitted it with his permission as Clear Weather.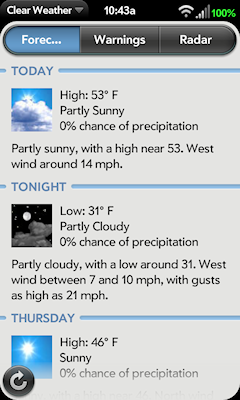 Features:
· Weather at your current location (based on GPS) or you can enter a zip code
· Five-day forecast with thumbnails and description for day and night
· Warnings and alerts
· Simple weather radar view, either current or animated
· All weather info comes directly from the National Weather Service
· No ads of any kind

Weather information is available only for US locations.



Screen Captures:


Pre: weather · warnings · radar · preferences
Pre3: weather · warnings · radar · preferences
Touchpad: weather · warnings · radar · preferences

Clear Weather is open-source and released under the GNU General Public License 2.0.

Available in the App Catalog.

Comments and suggestions can be posted in the PreCentral forum: http://forums.precentral.net/webos-apps/307854-clear-weather.html#post3254994



Version history:


· 0.7.0 is the first version. Source code.
· Only modifications from No-Nonsense weather 0.6.0 are full-screen Touchpad and Pre3 support, addition of a Back button in the Preferences (required for Touchpad), and a fix for the radar images.



Updated 11/30/2011