Starfish also lack a central coordinating nervous center — a brain. Instead, a radial nerve runs down the length of each ray, connected with the other radial nerves by a circumoral nerve ring in the body. The nerve ring provides connections, but is not a processing center, and its structure is much simpler than the radial nerves. It appears that one radial nerve can take control of the body, signalling the others to coordinate movement in the direction of its ray. When the starfish moves, this ray is called the leading ray. The leading ray also tends to show a distinct posture, with the tip raised and curled back, and the terminal tube feet actively waving around. In fact, these tube feet look rather like antenna, and probably serve a similar role. The tips of the tube feet are packed with (presumptive) sensory cells.
I've conducted two basic types of experiments. In the most straightforward ones, I observed starfish orienting in a large (12 m x 2 m) flume, with and without odor. I've also performed experiments in which I removed the ability to smell from 1, 2, or 3 rays and then observed how orientation behavior changed. (I did this by immersing the tips of the rays in distilled water, which selectively destroys chemoreceptor cells in many marine invertebrates. The starfish recover their sense of smell after a couple days.)
The results of both types of experiment suggest that starfish use chemical concentration information (which may be actual concentration or some other correlated parameter, such as the slope or height of odor peaks) to compare concentration between their rays and move in the direction of the highest concentration. Sometimes this moves them upstream, while at other times it moves them across-stream towards the plume axis.
As a further test of this theory, I've developed a computer model of a starfish using such a strategy to orient in an odor plume. It is surprisingly reliable at reaching the odor source, and the paths it takes are similar to real orientation paths, both in their routes and in the frequencies with which different rays lead.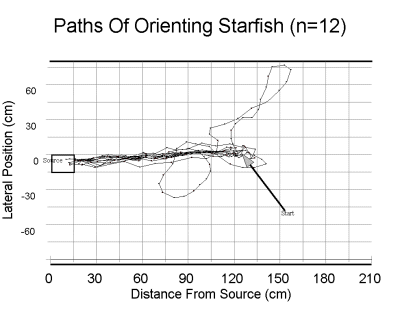 Above, the paths of twelve starfish in an odor plume. Starfish began (arrow) 120 cm downstream from the source (rectangle at left). As can be seen, the starfish stayed in the plume as they approached the source, with the exception of two starfish which circled before beginning their approach. Below, a similar plot of starfish in the absence of odor.